06/25/2018 12:00 AM
Thai TS Maple's Sticky-Sweet Anal Date - Maple & Francis B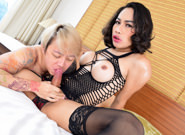 Dolled up in a fishnet top and sheer stockings, sassy and busty Thai ladyboy Maple squeezes her tits and lewdly strokes her she-dick for the camera. The glamorous T-girl enjoys a passionate blowjob from tattooed Asian stud Francis. He rims her and then shoves his throbbing tool up Maple's sensitive asshole as she jacks her fat, curved boner. They switch roles, and she drills Francis' bunghole in several lewd positions. He sucks T-dick ass-to-mouth and gobbles Maple's syrup. Finally, he cums between her titties.
06/24/2018 12:00 AM
Stud Buttfucks, Facials Hot TS Lianna - Gabriel D'Alessandro & Lianna Lawson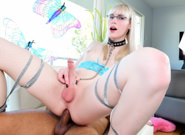 Lianna Lawson is a tall, blonde transsexual model wearing spectacles with a dog collar and leash. While the pale princess is being interviewed, tanned stud Gabriel Dalessandro sucks her tiny, sensitive tits and then wraps his mouth around her stiff lady-cock. Lianna slurps his meat and then gets on all fours; Gabriel eats her asshole and then buries his fat dick in her tight rectum. He buttfucks Lianna and fingers her sphincter as she masturbates to orgasm. Finally, she reams his ass using a dildo. Lianna swallows his cum.
06/23/2018 12:00 AM
Young Thai TS Skye Sucks 'n Fucks Stud - Skye & Francis B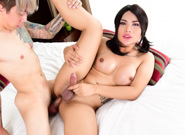 In lacy lingerie, young, pig-tailed Thai ladyboy Skye exposes her big, round tits and leans back for a ravenous blowjob from Asian stud Francis. He slurps on Skye's throbbing dick and lewdly tongues the TS babe's tender asshole. She reciprocates with a friendly suck job, and she bones Francis' tight backdoor before cumming on his ass. Next, the stud anally drills Skye's shapely butt. He dumps a creamy load of cum on the T-girl's outstretched tongue.
06/22/2018 12:00 AM
Annabelle & Casey: TS-On-TS Anal Fuck! - Casey Kisses & Annabelle Lane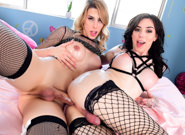 Two busty, beautiful TS glamour girls, brunette goddess Annabelle Lane and tall blonde Casey Kisses, look glamorous in skimpy lingerie and black fishnet stockings. The trans temptresses take turns eagerly sucking each other's stiff she-cock. Casey licks Annabelle's asshole, and Annabelle impales her tight sphincter on the blonde's rigid boner. During an intense anal fuck, Annabelle wanks her meat to an explosive orgasm. And Annabelle licks the jism from Casey's throbbing dick.
06/21/2018 12:00 AM
Glam TS Domino Masturbates, Ejaculates - Domino Presley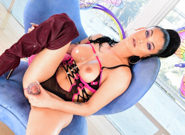 Sporting suede knee boots and hoop earrings, exotic, busty transsexual goddess Domino Presley gives us a solo masturbation show. She squeezes her big, round knockers and then lubes up her turgid cock to stroke herself with long, manicured fingers. She wraps her engorged boner with a soft gel sleeve and pumps the shaft up and down. This glamorous T-girl masturbates faster and faster, edging toward orgasm, until ropes of cum spurt and dribble from Domino's glistening she-dick.
06/20/2018 12:00 AM
TS Chelsea + Squirting Adriana Chechik - Chelsea Marie & Adriana Chechik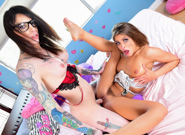 In lacy lingerie, tattooed TS goddess Chelsea Marie shares an intimate date with genetic female Adriana Chechik, a porn superstar! Adriana swallows the stiff she-cock protruding from Chelsea's panties, bobbing her head on spit-slickened meat and sucking balls. The bespectacled trans babe licks Adriana's pussy and makes her squirt girl cum! Adriana rides Chelsea's dick, occasionally erupting in wet orgasms. She rims and probes Chelsea's butthole with a fat dildo. Finally, Chelsea unleashes hot sperm onto Adriana's face.
04/25/2018 12:00 AM
Stud Sodomizes Thai Ladyboy To Orgasm! - Kai Bailey & Micky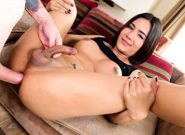 White stud Kai Bailey admires young Thai ladyboy Micky as the lithe, tanned T-girl does the dishes. Micky exposes her round boobs; she and Kai kiss on the sofa. Cute Micky worships Kai's raging erection, and he rims her asshole while stroking Micky's little boner. Kai shoves his thick cock up her tight, young ass. He reams the petite T-doll anally, making her butthole gape and her she-dick spurt in orgasm! Finally, Kai cums in Micky's mouth.
04/24/2018 12:00 AM
Glam TS Fucks Li'l Blonde T-Doll! - Chelsea Marie & Janelle Fennec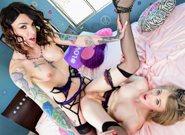 In lacy lingerie, blonde T-girl Janelle Fennec spreads her ass cheeks to reveal her open butthole, and she wanks her stiff, little dick for the camera. Slender, tattooed TS glamour girl Chelsea Marie sucks the blonde T-doll's raging erection. When they've blown each other, Chelsea rims Janelle's asshole and then fiercely fucks her pale ass. Janelle sucks she-cock ass-to-mouth. As Chelsea sodomizes her, Janelle climaxes. Chelsea slurps the last drops from Janelle's dick and then cums in her mouth.
04/23/2018 12:00 AM
White Stud Buttfucks Tight Thai T-Girl - Kai Bailey & Nonny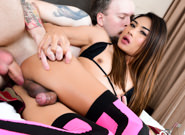 In striped stockings, high heels and a tiara, adorable, young Thai ladyboy Nonny plays with her sensitive nipples and pulls her stiff, uncut cock from her lacy panties. The all-natural T-girl stretches her lithe body and licks white stud Kai Bailey's throbbing boner. Nonny blows Kai; he pushes his hard-on deeply inside Nonny's tight, little asshole. She jacks her boner as he reams her rectum, till her cum erupts like lava. Seconds later, Kai ejaculates into Nonny's mouth.
04/22/2018 12:00 AM
Glam T-Girl Jacks Off Huge She-Boner - Keylla Marques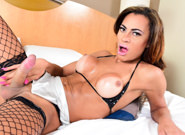 Ferociously glamorous, busty and well-hung, sexy Brazilian T-girl Keylla Marques fondles her round tits and strokes her giant schlong with a manicured hand. She peels off her tiny thong panties, lies on the bed in fishnet stockings and feverishly jacks her uncut cock while glaring at the camera. As the pleasure of her intimate masturbation builds, the Latina beauty can no longer hold back. Keylla pumps a messy load of hot jizz all across her tanned tummy.
04/21/2018 12:00 AM
TS Dates Bio Girl: Pussy Fuck, Sodomy - Natalie Mars & Ariel McGwire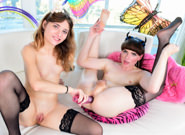 Tiny-breasted TS beauty Natalie Mars and sweet, all-natural biological girl Ariel McGwire share makeup and kisses as they prepare for an intimate sex scene. Ariel hungrily deep-throats the gorgeous T-girl's hard cock, getting the shaft nice and wet. They masturbate each other, with Natalie gently stroking Ariel's hairy cunt before fucking it. Ariel sucks Natalie's nylon-clad toes, lewdly rims her asshole, and then sodomizes her using anal toys. Finally, Ariel buzzes her pussy to climax and Natalie jacks to her own orgasm.
04/20/2018 12:00 AM
Hot TS Domino, New BF Fuck, Trade Cum - Gabriel D'Alessandro & Domino Presley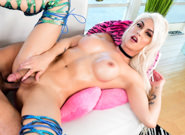 Director Joey picks up gorgeous, platinum blonde T-girl Domino Presley and drives her home for a nasty date with male devotee Gabriel. She peels aside her lacy bra and unveils her round boobs. Gabriel takes Domino's long, stiffening she-cock in his mouth, and he lewdly tongues her bunghole. The TS bombshell slurps on her new boyfriend's dick, and he eagerly fucks her tight rectum. Domino jacks a load of sperm all over his face; Gabriel spunks across Domino's booty and obediently licks up his hot mess.
01/24/2018 12:00 AM
Aussie TS Marissa Fucks Athletic Stud - Gabriel D'Alessandro & Marissa Minx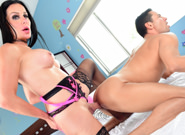 Tall, leggy Aussie T-girl Marissa Minx wears sheer lingerie, sporting a large bulge in her panties as massive breasts spill from her top. Athletic stud Gabriel Dalessandro walks in and embraces the Amazon beauty, kissing her neck and shoulders. After trading passionate oral favors, the lewd lovers take turns sodomizing each other. A prurient anal session features nasty bunghole rimming, ass-to-mouth cocksucking and kinky foot fetish play! Marissa jerks off to orgasm while Gabriel plows her ass. Gabriel glazes Marissa's face in sperm.
01/17/2018 12:00 AM
Sexy T-Girl Skye Shows How She Cums - Skye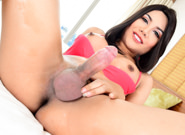 T-girl bombshell Skye loves showing off her fit body, long legs and big tits. After a sexy tease, the dark-skinned beauty drills her sphincter with a vibrating dildo while pumping her stiff prick. She pulls out her pink toy and flaunts her gaping anus, and then stuffs it into her mouth to taste ass-to-mouth flavor. A sweltering solo session features intense anal play, and after a creamy masturbation climax, Skye slurps delicious jism from her fingertips.
01/10/2018 12:00 AM
Asian TS Pony Takes Stud's Thick Cock - Kai Bailey & Pony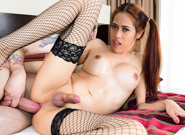 Pony is a cute T-girl with luscious tits and an adorable smile. The Asian doll joins stud Kai Bailey for a passionate anal plowing. She delicately slurps his Kai's thick cock and whimpers as Kai penetrates her tight sphincter. Pony pumps her prick as Kai drills her rump. The T-girl sucks dick ass-to-mouth and masturbates to an intense orgasm. After a passionate sodomy session, Kai jerks off and cums into the feminine ladyboy's mouth.
01/03/2018 12:00 AM
TS Nina Fucks Bio Superslut Katrina! - Nina Lawless & Katrina Jade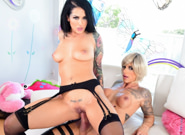 Wearing black lingerie, tattooed superslut Katrina Jade teases the camera. Katrina's eager for her first meeting with muscular TS Nina Lawless! The two lovers passionately kiss before Katrina kneels for a worshipful, slobber-soaked suck job. The statuesque T-girl eats pussy, plows cunt dominantly, and masturbates as Katrina rims her. Nina picks up Katrina and pounds her. Finally, Nina strokes her prick, dripping sperm into Katrina's open mouth.
12/27/2017 12:00 AM
Buxom T-Girl Anally Dominates Stud - Gabriel D'Alessandro & Bianka Nascimento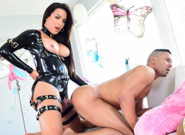 Buxom T-girl Bianka Nascimento wears a tight latex dress as Gabriel Dalessandro pampers her. He slathers her thick body in oil, and she dominates, giving orders as Gabriel strokes her stiff prick. Bianka fucks his face slobbery, and Gabriel obediently rims the brunette T-girl's sphincter. She smacks Gabriel's butt as he rides her cock, and she harshly pounds the athletic stud's anus. See sloppy, ass-to-mouth fellatio and kinky foot play till Gabriel cums on Bianka's face.
12/20/2017 12:00 AM
Busty Amazon TS Fucks Cis Girl - Moka Mora & Marissa Minx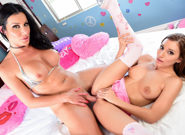 Fit, all-natural beauty Moka Mora performs a playful hula-hoop dance tease. She greets Amazon T-girl Marissa Minx with an intense blowjob, and then rides her stiff dick through a wild, gender-warped fuck session. The busty T-babe passionately kisses Moka and whimpers when the beautiful bio-girl rims her anus. Dominant Marissa strokes her stiff shaft when Moka penetrates her sphincter with a dildo, and Marissa tastes Moka's toy ass-to-mouth. Marissa jerks off and Moka slurps up her syrupy sperm.
11/01/2017 12:00 AM
Muscle Stud Sodomizes Thai Ladyboy - Alice G & Youlian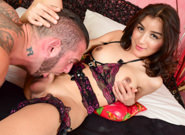 Pale, exotic Bangkok T-girl Alice shows off perky little tits in wispy lingerie. Tattooed muscle boy Youlian joins her; he passionately kisses Alice while fishing her stiff she-dick out of her panties. After some heavy petting, the petite ladyboy drops to her knees, swallows his boner and licks his ball sack. He orally worships Alice's tool, rims her tiny butthole and pushes his oversized cock inside. After Youlian sodomizes the Asian cutie, the lovers cum in each other's mouth.
10/31/2017 12:00 AM
Knockout TS Devil's Heavenly Solo Show - Lauynnia Ferraz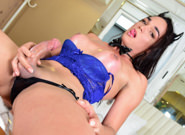 Brazilian knockout Lauynnia Ferraz tempts us with her flexing asshole before revealing her stiff she-dick. Wearing devil horns and strappy pumps, this bustier-clad T-girl fingers her tender butthole while steadily pumping up and down her engorged shaft. Lauynnia licks her ass-flavored fingers and teases her nipples as she strokes her big boner. After an intimate solo show, the pretty transsexual's cock head erupts jism; Lauynnia licks up a tasty droplet.
10/30/2017 12:00 AM
Sassy, Glam Blonde TS' Hard Anal Date - Alex Victor & Nanda Molinari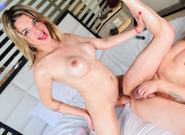 Sassy blonde transsexual Nanda Molinari reveals her thick she-cock during the taxicab ride to her hotel. There, the glamorous Brazilian T-girl teases us with her round boobs, pale, plump ass and large boner. Horny Latin stud Alex Victor shoves his huge prick down Nanda's throat; he eagerly licks her big rack, wetly sucks her raging hard-on, and worships her winking anus. The adventurous lovers take turns passionately fucking each other's ass. They mutually masturbate to creamy climaxes.
10/29/2017 12:00 AM
Latina TS Fucks n' Facials Macho Man! - Youlian & Vivi Isobelle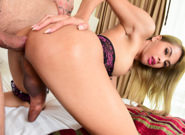 Slim, adorable Brazilian T-girl Vivi Isobelle squeezes her large, round boobs and strokes the fat she-boner poking out of her skimpy panties. Macho Youlian wraps his mouth around the glamorous trans girl's raging erection and tenderly sucks. He tongue-worships her tight bunghole. Vivi deep-throats his dick. Youlian gives her an intense anal reaming; Vivi cums all over his face! Finally, the Latin stud opens her jaws using a dental clamp, fucks Vivi's mouth, and splatters her with sperm.
10/28/2017 12:00 AM
Stud's 3-Way With 2 Brazilian T-Girls - Alex Victor & Thais Tavares & Melyna Merlin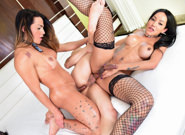 Busty Brazilian T-girls Melyna Merlin and Thais Tavares sit in bed, exposing their round tits and stroking their big, hard lady-dicks. Latin stud Alex Victor joins them for a passionate dick sucking party! Melyna and Thais take turns sodomizing one another while slurping on Alex's boner. The trio forms a human daisy chain of ass fucking. Thais blows her creamy load while riding on the handsome man's prick, and Melyna jacks herself off. Alex sprays their fine asses with hot splooge.
10/27/2017 12:00 AM
Stud's Reaming Makes NYC T-Girl Gape - Gabriel D'Alessandro & Lena Kelly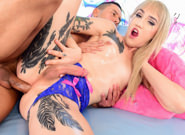 Tattooed New York T-girl princess Lena Kelly dons a tiara and offers her tiny tits to muscular stud Gabriel. He wraps his mouth around Lena's stiff she-cock, and he fingers and tongues her sweet asshole. The trans beauty kneels to give Gabriel a passionate blowjob while stroking her meat. Soon his fat dick is reaming the blonde beauty's tight rectum, making it gape. Lena cums all over her own pretty face, and she milks out a tasty load of her man's jism.
09/11/2017 12:00 AM
Creamy TS Lara Lactates, Fornicates! - Alex Victor & Lara Machado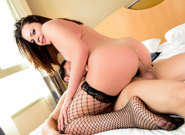 Transsexual temptress Lara Machado snaps selfies on the bed, lactating milk from her perky tits as she fondles her prick! In elegant lingerie, she welcomes muscular stud Alex Victor with a passionate blow job. Lara tongues Alex's bunghole and gives deep-throat fellatio. She moans as Alex penetrates her asshole. The T-girl sucks dick ass-to-mouth and sprays sperm as Alex drills her rectum. The sexy vixen applies lip gloss in preparation for a creamy cum facial.